As the world's leading aligner brand, SPARK aligners have taken the orthodontic world by storm! Ormco Corporation has been revolutionizing our understanding of clear aligners for 60 years by helping patients achieve perfect smiles. Despite being a new player in the market, SPARK clear aligners are quickly becoming a household name — even challenging established giants like Invisalign!
SPARK has achieved phenomenal success thanks to technological innovation. Over the past few years, Ormco has refined the clear aligner experience, resulting in a smoother, more comfortable treatment experience.
However, perfection knows no end. In November of last year, Ormco Corporation introduced SPARK clear aligners Release 13, a giant step toward providing the ultimate aligner experience. The Spark Approver Software in 2023 will dominate the market with its proprietary Integrated Hooks, CBCT TruRoot™ Feature, and Real-Time Approval!
How SPARK Aligners are Revolutionizing the World of Orthodontics!
With TruGEN, the latest innovations in clear aligner material, SPARK aligners have taken the concepts of comfort, durability, and stain resistance to a whole new level here at Loudoun Orthodontics!
As a result of the revolutionary material, SPARK aligners can outperform their competitors through:
Clarity:

SPARK aligners are clearer and more stain-resistant than their competition, thanks to their next-generation material.

Superior tooth contact:

3D printing ensures that SPARK aligners are perfectly calibrated, using a superior tooth contact that retains pressure for a sustained period of time.

Polished, hand-trimmed edges

: Aligners with hand-trimmed, polished edges are ideal for patients with allergies and sensitivities because the contact between the aligner and the oral cavity tissue is minimized.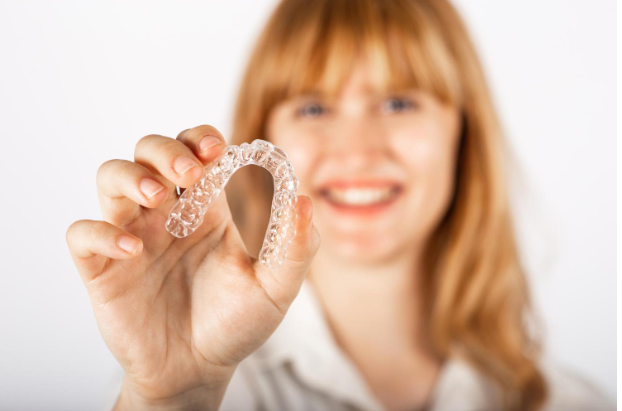 The SPARK Clear Aligners Release 13 is Here!
There are three innovations in SPARK Clear Aligners Release 13 that are sure to take the world by storm: CBCT TruRootTM, Integrated Hooks, and Real-Time Approval.
1. Integrated Hooks
With the new SPARK clear aligners, the proprietary Integrated Hooks replace the standard hook or button elastic cutouts with an innovative approach. The SPARK Integrated Hooks are tough enough to last throughout the treatment plan, unlike the latter — notorious for their propensity to bend and break. Due to this feature, Integrated Hooks are ideal for Class II, Class III, and gummy smile corrections.
2. The TruRoot Feature
In the new TruRoot Feature of SPARK Approver Software, providers can update library roots in the software with the patient's actual root shape captured by cone-beam computed tomography (CBCT). In order to differentiate the library roots from the patient's, the software will use pink to differentiate between the library roots and the patient's; however, each provider can easily customize the color code.
3. Real-Time Approval
With the TruRoot Feature, providers can update the SPARK Approver Software library roots to reflect the patient's actual root shape from the cone-beam computed tomography (CBCT) scan, resulting in a more comprehensive root visualization and treatment plan. The software uses pink to distinguish between library roots and patient roots, although each provider can easily customize the color code!
Start Your SPARK Aligner Journey at Loudoun Orthodontics!
Contact Loudoun Orthodontics if you think SPARK aligners are the solution to your dental woes. Whether you want to learn more about the benefits of SPARK aligners or have questions about the process, use our live chat or call (703) 858-0303 or send us a message through our contact us page to connect with our friendly staff today to book a complimentary orthodontic consultation! Our office, located at 19465 Deerfield Ave, Suite 304, Leesburg, VA 20176, proudly serves not just Loudoun County but also the Greater Washington DC area. So, if you're residing in Ashburn, Lansdowne, or Sterling, and are looking for one of the best orthodontists in Virginia, don't hesitate to visit our office! We also invite you to keep up with our blog to get answers to many of the frequently asked questions about maintaining sparkling oral health, and follow us on Facebook and Instagram to become a part of our smiling community!
References
Chan, Camille. "Ormco Announces Spark Clear Aligners Release 13." Dental Resource Asia, dentalresourceasia.com/spark-clear-aligners-release-13/. Accessed 6 Mar. 2023.
"SparkTM R13 with New Clinical Features Released." Ormco, ormco.com/spark/r13-update/english/. Accessed 6 Mar. 2023.
Aligners, Spark Clear. "SPARKTM Clear Aligners Release 13 Provides Highly Anticipated Orthodontic Innovations with Ground-Breaking and Exclusive Clinical Features." PR Newswire: Press Release Distribution, Targeting, Monitoring and Marketing, 1 Nov. 2022, www.prnewswire.com/news-releases/spark-clear-aligners-release-13-provides-highly-anticipated-orthodontic-innovations-with-ground-breaking-and-exclusive-clinical-features-301662558.html. Accessed 6 Mar. 2023.
"Trugen Material: SparkTM Clear Aligner System: Ormco Products: Orthodontic Appliances and Supplies." Ormco, ormco.com/spark/trugen-material/. Accessed 6 Mar. 2023.