At some point in our lives, many of us have, are, or will wear braces, whether we like them or not. Approximately four million Americans wear braces at any given time, despite research suggesting that the actual number of people who should wear braces is much higher.
With a bit of patience and dedication, you can achieve that perfect smile. You can speed up your treatment journey by taking proper care of your braces, despite your braces being uncomfortable — especially at the beginning of your treatment. Properly brushing your braces lets you keep them sparkling! It isn't rocket science; just use the right tools, and you'll be good to go!
Why You Must Keep Your Braces Properly Clean
Braces make it more challenging to maintain good oral hygiene, which is why keeping your braces clean every day is just as important for your oral health as brushing your pearly whites every day. There are nooks and crannies between orthodontic appliances and your teeth where bacteria can flourish. By not brushing properly, bacteria will gradually adhere to your teeth, resulting in plaque buildup, tartar, gum disease, and tooth decay.
Keeping Your Braces Clean Takes Patience and Dedication!
1. Pick the Right Toothbrush for Braces
When it comes to picking the best toothbrush for your orthodontic treatment, wearing braces changes everything. Unfortunately, your current toothbrush will probably not properly clean your gums, tooth surfaces, and braces all at once, so you'll need to upgrade your toothbrush arsenal to include the following brushes:
Consider an electric toothbrush with a small head and soft bristles (stiff bristles may

cause inflammation/bleeding on your gums

).

Brush with a

single-tufted brush

(ideal for cleaning hard-to-reach areas of your mouth).

You can

clean between your teeth

with an interdental toothbrush (it works like floss).

2. Brush Your Teeth After Every Meal
Brushing your teeth after every meal is not always possible, but it keeps your braces clean and impedes plaque buildup. You can dislodge food particles stuck in your braces by using mouthwash as a temporary solution until your next brush since it works well!
3. Use the Appropriate Brushing Technique
Properly brushing your teeth is an essential part of the brace care routine. Unfortunately, your current brushing technique isn't designed to clean every angle of your orthodontic appliances, so we're here to show you how to improve your brushing technique!
Use circular motions

to brush the visible side of your braces. This will ensure a thorough clean-up.

Brush your braces brackets at a

45-degree angle

to allow the bristles to reach the tops and bottoms of each bracket (where bacteria and food particles love to hide). The same goes for the gum line.

Cleaning the inside of your teeth is more complicated. Aside from brushing at a 45-degree angle, you'll need to

brush straight up and down

. Be careful, as it might be messy!

Next, you need an

interdental toothbrush

to clean between brackets and under the arch wire (again, these are the most accessible places in your mouth for plaque to accumulate). As you brush each tooth, move it gently up and down several times, pointing the bristles toward the gum and covering the area under the wire and between the brackets.
4. Don't Forget About Flossing and Mouthwash!
Keeping your mouth healthy doesn't end with brushing! It is essential to ensure that food particles are not lodged between your teeth. Floss threaders, floss pickers, or water flossers work well for this! Because your braces prevent regular floss from reaching your tooth gaps, it just won't do!
Lastly, it would help if you rinse your mouth with mouthwash after flossing. Occasionally, it is not appropriate to brush your teeth (i.e., between grabbing a quick bite and attending an important presentation). As a result, rinsing with mouthwash works as a perfect makeshift solution since it dislodges leftover food particles from your teeth and braces. Additionally, it keeps your breath fresh throughout the day as well. When you get home, remember to brush your teeth!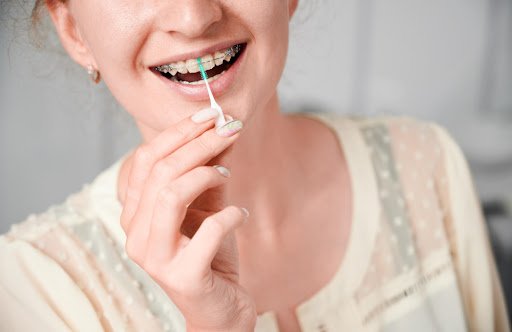 5. Stay Away From Sticky Foods
You must also adhere to appropriate foods to take care of your braces. Unfortunately, some of your old favorites could clash with your orthodontic treatment — some adjustments may be necessary. As such, hard, sticky foods with loads of sugar and artificial coloring will favor bacterial growth in your mouth. Instead, your orthodontist will recommend calcium and protein-rich foods that are gentler on your teeth. Find out what foods Dr. Lee recommends for braces in this article!
6. Visit Your Orthodontist Frequently
As soon as you establish a healthy routine, it's time to get feedback on how things are going. This is where regular orthodontic appointments come in handy. Visit your orthodontist every once in a while to ensure you're on the right path.
Getting Gum Out of Braces
Despite our best efforts, accidents do sometimes happen. For example, you might have given in to the temptation of trying a new chewing gum flavor, and suddenly, it gets stuck in your brackets. Don't worry, though; as long as you focus on damage control, your gum will be out of your braces in no time!
Don't use too much pressure while brushing your teeth to remove the chewing gum stuck in your braces.

If chewing gum gets stuck between your braces and your teeth, use a floss threader, floss pick, or water flosser to remove it.

Until your braces are free of chewing gum, repeat the process.

Start Your Orthodontic Journey at Loudoun Orthodontics!
Contact Loudoun Orthodontics if you think braces are the solution to your dental woes. Whether you want to learn more about the benefits of braces or have questions about the process, use our live chat or call (703) 858-0303 or send us a message through our contact us page to connect with our friendly staff today to book a complimentary orthodontic consultation! Our office, located at 19465 Deerfield Ave, Suite 304, Leesburg, VA 20176, proudly serves not just Loudoun County but also the Greater Washington DC area. So, if you're residing in Ashburn, Lansdowne, or Sterling, and are looking for one of the best orthodontists in Virginia, don't hesitate to visit our office! We also invite you to keep up with our blog to get answers to many of the frequently asked questions about maintaining sparkling oral health, and follow us on Facebook and Instagram to become a part of our smiling community!
References
Edwards, Gareth. "The Ultimate Guide – How to Clean Braces Properly." Smile Stories, 25 July 2022, smilestories.co/how-to-clean-braces-properly/. Accessed 20 Apr. 2023.
"Interproximal Brush ." Welcome to the Dental Associates Website., www.dentalassociates.com/dental-topics/interproximal-brush. Accessed 20 Apr. 2023.
Association, Pennsylvania Dental. PDA Presents the Facts on Braces, www.padental.org/Online/Resources___Programs/News_Releases/Past_News_Releases/Facts_on_Braces.aspx. Accessed 20 Apr. 2023.
"8 Braces Cleaning Tips for Healthy Teeth & Bright Smile." Thurman Orthodontics, 12 Jan. 2023, www.thurmanortho.com/teeth-cleaning-with-braces/. Accessed 20 Apr. 2023.