Our vibrant staff provides cutting-edge orthodontic techniques for families: children, teens and adults. We ensure patients receive the highest level of specialized, orthodontic care! We want you to enjoy your experience and look forward to your next appointment.
The American Association of Orthodontists and Dr. Lee recommend children have their first orthodontic evaluation at age 7. Early evaluations ensure that treatment is started at the right stage and predict the greatest result. Some treatments, like expansion and jaw development, are most effective at earlier ages.
We offer a variety of orthodontic treatments for adolescents and teens, specifically designed to treat physically developing smiles. We believe a confident smile leads to a bright future! Treatments include metal braces, clear braces, and Invisalign Teen.
Adults are turning to orthodontic treatment more and more. A confident smile improves professional appearance, social interactions, and overall oral health. We offer metal braces, clear braces, and Invisalign treatments specifically designed for physically mature smiles. You are never too old to have a new smile!
The retention phase lasts for a minimum of 12 months. Your final orthodontic result depends on your retainers, so follow through with the hard work you've put in so far.
Invisalign® invisible braces straighten your teeth without wires and brackets, using a series of clear, customized, removable appliances called aligners. It's virtually undetectable.
iTero Scanner
We are proud to provide the latest technology in orthodontic care, improving patient comfort while delivering amazing results. iTero scans eliminate the need for gooey, uncomfortable impressions, and patients can see a personalized time-lapse video of exactly what their confident smile will look like at the conclusion of treatment!
Our office is committed to helping you maximize your insurance and flex spending benefits. We participate with most insurance plans, including VA Smiles for Children/ Medicaid.
Payment Plans
Our goal is to create a financial plan that is comfortable for you and your family's budget. Payment plans and 0% interest are available.
Fully Qualified
Member of the American Association of Orthodontists, the American Dental Association, and the Virginia Dental Assocation.
Our team is trained and skilled, and each member has years of experience in treating patients with customized, personal care.
Dr. Richard J. Lee
Dr. Lee pursued his passion for developing confident, natural smiles and began a career as an orthodontic specialist following his studies in medical research. He is active in peer study groups, staying in touch with the latest technologies and techniques available in orthodontic treatment.  He is an active Loudoun County community member and enjoys the arts and culture of the Northern Virginia area
See what our clients have to say about us!
Friendly & On Time
Dr. Lee and his staff are the best! Everyone is professional and friendly and our appointments are always on time. I was really impressed with how they made sure that both of my children (teens) fully understood the process for straightening their teeth and now my kids actually look forward to their regular visits and color change! The payment plan fits my budget and scheduling appointments is a breeze. I highly recommend Dr. Lee and Loudoun Orthodontics.
Invisalign Treatment
I just completed 12 months of Invisalign treatment and couldn't be happier with Dr. Lee and the entire staff. Everyone was always very courteous and the Dr. never made you wait to be seen. Explained everything and the results were better than expected. Always filed my insurance claims for me and payments were easy to set up or take care of in a number of different ways. Highly recommended!
Adult Braces
Being in my 40's, I was a bit apprehensive about getting braces; however, I found the overall experience with Dr. Lee to be very pleasant. His staff is very nice, their client management top notch (e.g. no waits, effective insurance processing, and so forth), and his office state of the art. Dr. Lee's communications skills are great as he outlines options and associated benefits so that it's straightforward to choose the best option. I'm about half way through, but I can see that the results will be great. Highly recommend Dr. Lee.
Come Visit Loudoun County's Best Orthodontics Clinic
Does my family dentist need to refer me for an orthodontic consultation or evaluation?
No, it's not necessary. Many of our patients are referred by their family dentist, yet many other patients take the initiative to schedule an examination themselves.
I have a broken bracket or poking wire. What should I do?
Call the office and make them aware of the situation, but don't worry: most issues can be taken care of at home until you are able to be seen at the office. For a poking wire, use a pencil eraser and "tuck" the wire away from the gum or cheek, and cover with wax. A clean pair of nail clippers can also be used to "clip" the wire close to the bracket. Then cover with wax. If a bracket comes loose from the tooth or wire, KEEP IT! Call the office so that additional time may be added to your next appointment to reattach the bracket.
At what age should I schedule an appointment for an orthodontic screening?
The American Association of Orthodontists recommends an orthodontic screening at age 7. By this age, several permanent teeth in most children have erupted, allowing us to effectively evaluate your orthodontic condition. Some orthodontic corrections (expansion and jaw development) are most effective at earlier ages.
Can my general dentist provide orthodontic treatment? What about DYI or Club orthodontics?
While a dentist is permitted to perform orthodontic treatment, like Invisalign, they have not had the extensive training in tooth movement that an orthodontic specialist has had. An orthodontist completes four years of dental school AND and additional 2-3 years of specialty training in tooth movement and orthodontics. An orthodontic specialist will closely monitor the progress of your treatment with regular appointments and can quickly address any problems or issues that may arise vs. DYI and Club orthodontics. Severe oral damage and tooth loss can occur with improperly monitored tooth movement.
We accept Aetna, Ameritas, Assurant, BCBS Anthem, BCBS Carefirst, Cigna, Connection Dental, Delta Dental, Denta Max, Dentaquest, Dominion Dental/Kaiser, FEP Blue, GEHA, Guardian, Humana, Metlife, Principal, United Concordia, and VA Smiles for Children/ Medicaid.
We are proud to support our teachers and our military.
Office Hours
We are open to serve you, answer questions or schedule an appointment during the following hours:
Monday & Tuesday8 a.m. – 5 p.m.
Wednesday9 a.m. – 5 p.m.
Thursday10 a.m. – 7 p.m.
Friday9 a.m. – 1 p.m.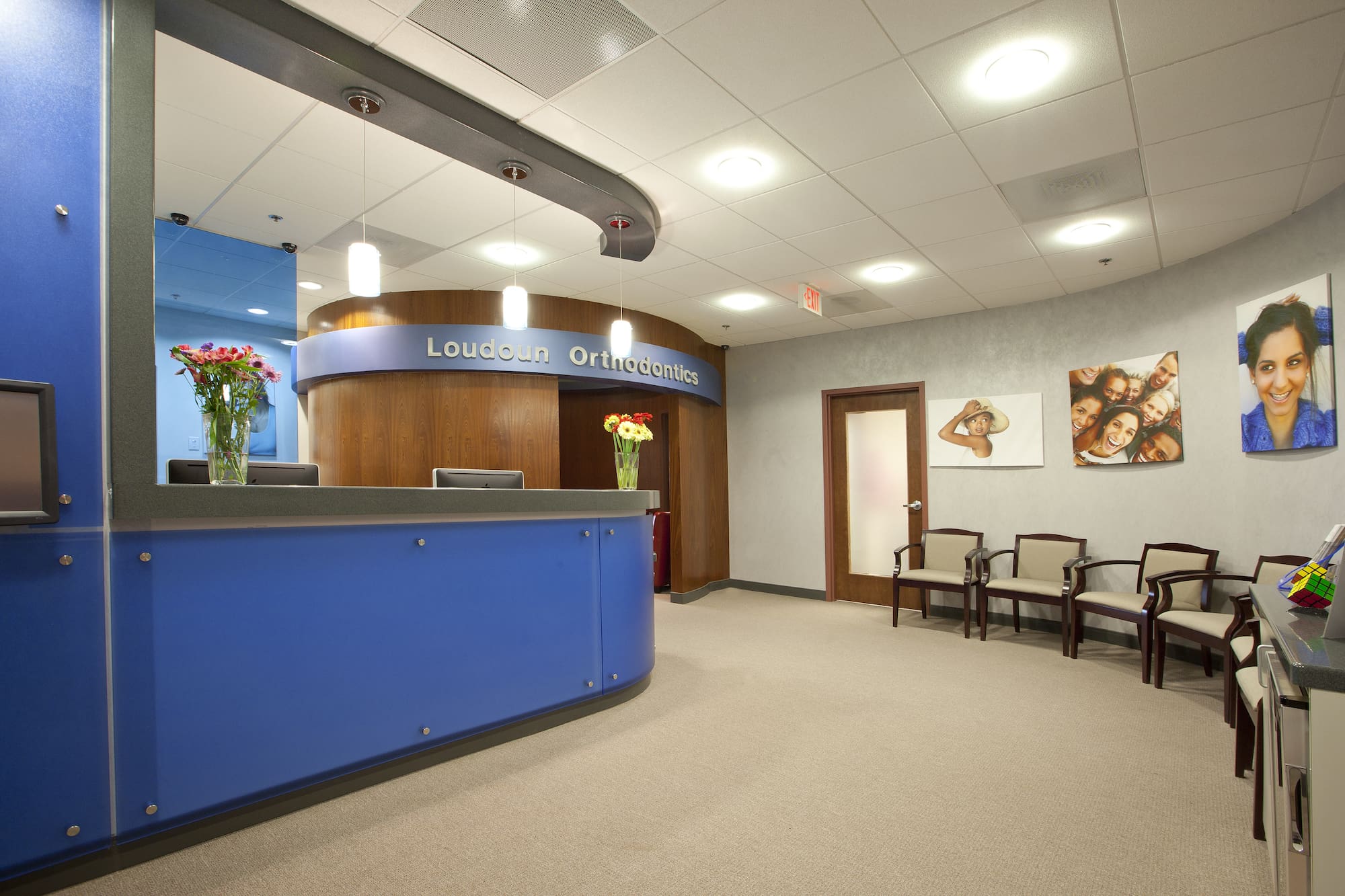 Directions
We are conveniently located near Ashburn, Sterling and Leesburg, VA in Lansdowne, Virginia. We are across the street from INOVA Loudoun County Hospital.
19465 Deerfield Ave.
Suite 304
Lansdowne, VA 20176
Ready to make an appointment?
At your initial consultation, our goal is to provide you with every detail related to your orthodontic treatment – the what, how long, and how much. Please complete and submit the following online new patient form prior to your initial consultation.
(703) 858-0303
Just want to ask some questions? We're happy to help!