Many of us dread going to a dentist or orthodontist because of one simple question: "How often are you brushing your teeth?" This question fills many of us with guilt, even though we're brushing and flossing as per our dentist's instructions. No matter how hard we try to brush our teeth effectively, our efforts may be limited until we ask: "How to choose the right toothbrush?" We know that choosing the right toothbrush can be challenging due to the many factors that need to be considered. That's why we've compiled the ultimate guide below to help you choose the right toothbrush!
What Should I Look For in a Toothbrush?
Choosing the right toothbrush is crucial to ensuring that you're getting the most out of your oral hygiene routine and keeping your teeth and gums protected. With the global market for toothbrushes expected to hit over $5.5 billion in 2028, there is an abundance of options from which to choose. Here is what you need to consider when choosing a toothbrush:
#1: Head Size
The toothbrush head is the topmost section that contains the bristles. Generally, the larger the brush head, the more bristles it has, leading to a greater cleaning surface area. A larger brush head is not necessarily better, with various sizes of brush heads being advantageous in certain situations. For example, a smaller brush head may be suitable for those with smaller mouths or for those who want increased access to hard-to-reach teeth. Conversely, a larger brush head allows more tooth surfaces to be cleaned at once, making brushing easier.
#2: Bristle Design and Firmness
Bristle design and firmness are crucial factors to consider when choosing a toothbrush. Bristle design refers to the shape, length, and arrangement of the bristles on a toothbrush, while bristle firmness refers to the hardness or softness of the bristles on a toothbrush. Soft bristles are recommended for people with sensitive teeth and gums or a gum disease history. In contrast, hard bristles are generally suitable for people with heavy plaque build-up or strong tooth enamel since firm bristles are the best at removing plaque.
#3: Toothbrush Handle
A toothbrush handle is the part of the toothbrush you hold while brushing your teeth. Toothbrush handles are made from various materials, such as plastic, rubber, and even wood, with different materials having different pros and cons. A hard toothbrush may be more durable, but reduced flexibility can affect the effectiveness of your teeth cleaner. For example, a flexible neck handle allows the brush head to move more easily in the mouth and adapt to the shape of teeth and gums.
#4: The ADA Seal of Acceptance
The American Dental Association (ADA) Seal of Acceptance recognizes dental products for their safety and effectiveness in promoting oral health. Products are awarded the seal for five years, after which manufacturers must prove their safety and efficacy again for renewal. The best toothbrush for you should bear the ADA's approval, as this represents the highest standard for dental products in the U.S.
#5: Your Dentist's Recommendation
Most individuals have unique dental health needs, and as such, the question of what constitutes the best toothbrush varies from individual to individual. Consulting your dental professional regarding this issue will ensure that you are taking the optimal steps toward promoting good oral hygiene.
How To Choose the Best Electric Toothbrush
An electric toothbrush, also known as a powered toothbrush, offers several advantages over a manual toothbrush. Generally, electric toothbrushes are more effective at cleaning teeth due to their oscillations and rotations and can clean teeth faster than a manual toothbrush.  Electric toothbrushes vary significantly in their functionality and abilities, so to assist you in deciding on the best toothbrush, here are some factors to consider:
#1: Head Size
Electric toothbrushes come with different brush heads, such as oscillating-rotating, sonic, or ultrasonic. Sonic and ultrasonic toothbrushes use high-speed vibrations to remove plaque, while oscillating rotating toothbrushes use a circular motion to clean teeth.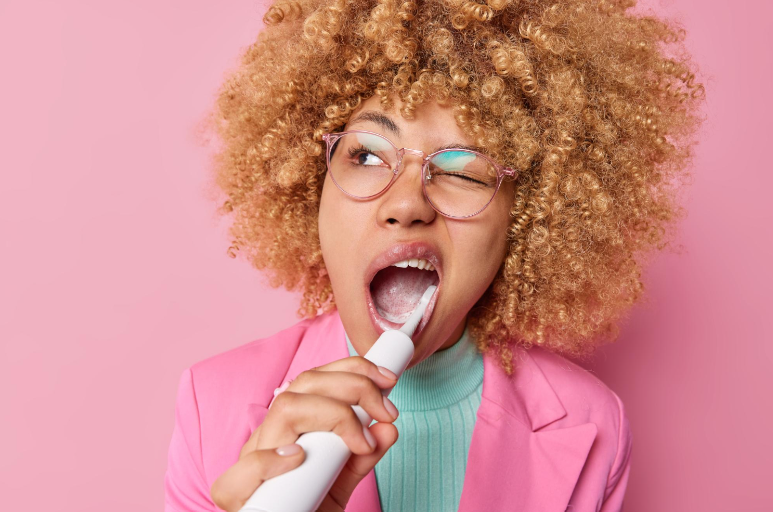 #2: Cleaning Modes
Several powered toothbrushes come with multiple cleaning modes, such as daily cleaning, sensitive cleaning, and whitening. Consider the cleaning modes that best suit your needs.
#3: Design and Handle
Electric brushes are generally more rigid and less flexible than manual toothbrushes. As such, a powered toothbrush that is easy to hold and maneuver in your mouth (e.g., with a non-slip grip) is a wise choice.
What Are the Differences Between Electric and Manual Toothbrushes?
#1: Time
Brushing with an electric device is faster than with a traditional toothbrush.
#2: Portability
Electric toothbrushes are generally bulkier and less convenient to travel with than traditional toothbrushes — something to consider if you travel a lot.
#3: Price
Electric toothbrushes are more expensive than manual toothbrushes on average, and they require charging or batteries. Subsequently, a traditional toothbrush may be easier on the wallet.
Which Toothbrush Is Best: Soft, Medium, or Hard?
The ADA recommends less firm toothbrush bristles because a soft-bristled toothbrush is less abrasive and less likely to cause damage to the gums or tooth enamel. For people without sensitivity issues or weak enamel, medium or hard toothbrushes may be the appropriate choice.
How Often Should I Change Toothbrushes?
According to the ADA, you should acquire a new toothbrush every three to four months or as soon as your toothbrush's bristles begin to fray. If you have recently been ill, it is also wise to replace your toothbrush to minimize the chances of re-infecting yourself.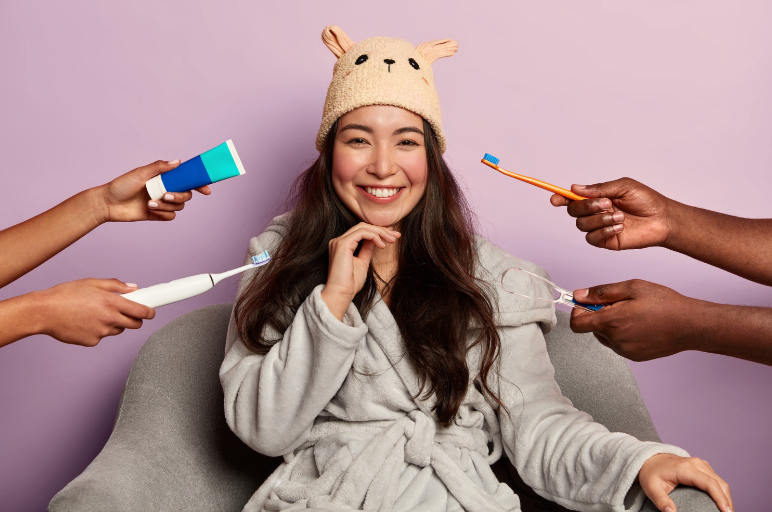 Start Your Orthodontic Journey at Loudoun Orthodontics!
Contact Loudoun Orthodontics if you think orthodontic treatment is the solution to your dental woes. Whether you want to learn more about the benefits of our orthodontic services or have questions about the process, use our live chat or call (703) 858-0303 or send us a message through our contact us page to connect with our friendly staff today to book a complimentary orthodontic consultation! Our office, located at 19465 Deerfield Ave, Suite 304, Leesburg, VA 20176, proudly serves not just Loudoun County but also the Greater Washington DC area. So, if you're residing in Ashburn, Lansdowne, or Sterling, and are looking for one of the best orthodontists in Virginia, don't hesitate to visit our office! We also invite you to keep up with our blog to get answers to many of the frequently asked questions about maintaining sparkling oral health, and follow us on Facebook and Instagram to become a part of our smiling community!