For people with braces, their breakfast staples become history, as they can no longer enjoy the classic breakfast items they've enjoyed since childhood.
The adjustment of braces and the tooth sensitivity caused by the new orthodontic equipment make it necessary to alter your breakfast foods. Unfortunately, getting braces or having them adjusted takes a toll on one of the most important meals of the day. Hard, crunchy, sugary foods become your enemies, whereas soft foods become your strongest ally.
The question is, can you eat toast with braces? That's what hundreds of patients search for each month. This article will provide you with the answer to this question!
Yes, You Can Eat Toast With Braces!
The answer is yes, you can eat toast with braces. Your braces will not be damaged if you lightly toast your bread or add sticky toppings to it. Breakfast foods can still be enjoyed without overcooking them or adding sticky toppings. Braces will not be damaged by lightly toasting bread, whether plain or with butter.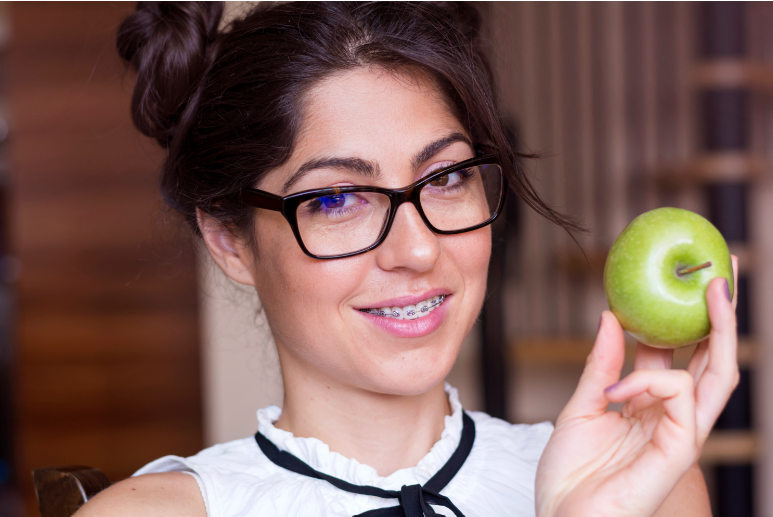 Tips for Safely Eating Toast With Braces
Having established that you can eat your morning toast even with braces, let's review some tips on how to properly prepare it:
Cut the Toast Into Smaller Pieces
It's hard to resist the temptation of biting off and chewing a big chunk of chewy bread. While wearing braces requires taking big bites, it is better to take your time and slice the toast slices into smaller squares. It may take longer, but you can never be too careful when eating toast with braces.
Avoid Biting With Your Front Teeth
When you bite into toast with your front teeth, you'll bend the brace wires and push off its brackets. Furthermore, your front teeth aren't meant to chew before swallowing — that's the job of your back teeth.
You should take a moment to check that you are chewing with your back teeth, not your front teeth, once you have your braces installed.
Turn to Fresh, Soft Bread
We should consider alternatives as much as we love our crunchy morning pastries with a warm cup of coffee. Patients with braces can still eat hard-crust bread, but only if the crust is removed consistently. You can also use soft-crust bread if you don't want to worry about being inconsistent with removing the crust!
Use a Lower Setting When Toasting the Bread
To ensure that your toast is soft and not hard and crunchy, choose a lower temperature setting when toasting in the future.
Smear Some Butter on Your Toast to Soften It
There's no better way to soften toast than with butter, so don't hesitate to let it sit longer or enjoy more butter with your next slice of toast.
Conduct Your Oral Hygiene Routine Straight After Eating Toast
Lastly, we recommend brushing your teeth after breakfast and rinsing your mouth immediately after eating toast so that food does not get trapped inside your new braces.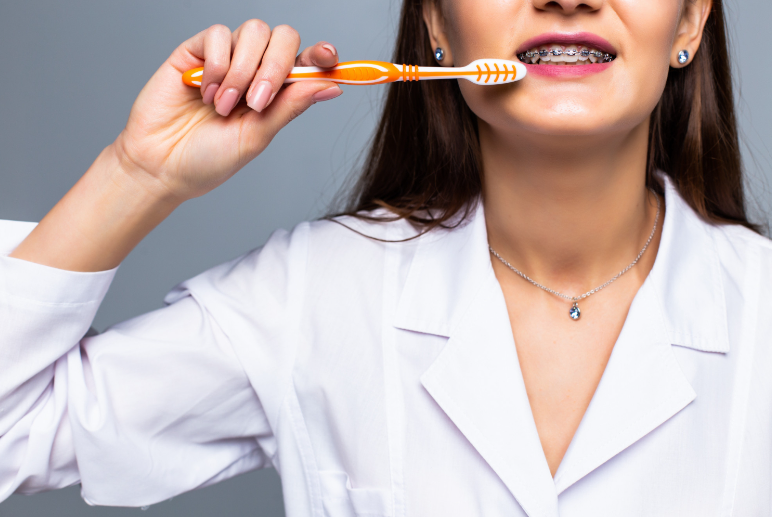 Avoid Certain Types of Bread and Toast Recipes
Despite being healthier or more delicious, certain types of bread and toast recipes require extra brushing and pose a greater threat to your dental health. For example, in wholemeal loaves, seeds such as sunflower, poppy, linseed, and pumpkin seeds can easily get caught between teeth and brackets or wires, prolonging your dental hygiene routine. Therefore, we recommend avoiding them altogether.
The following toast recipes contain chunky or sticky ingredients unsuitable for braces:
Avocado toast

: Avocados can be difficult to chew for those with braces.

Cinnamon toast

: You shouldn't overindulge in sugar.

French toast

: It is dangerous to consume French toast every day because of the sticky ingredients (such as cheese). Follow our tips for safe eating whenever you indulge in French toast or

research brace-friendly recipes!

Nutella toast

: It is advisable to avoid sugary foods while wearing braces, but you may indulge from time to time.

Peanut butter toast

: Peanut butter is a healthy snack, but it's too sticky for braces.
What Can You Eat With Braces for Breakfast?
Patients are making a commitment to maintaining a healthy oral cavity when they begin orthodontic treatment, and that commitment can only be fulfilled by improving their eating habits. Patients don't have to give up all their favorite breakfast foods! You can still put together a fantastic breakfast plate by including:
Scrambled eggs

: When served with cheese, soft vegetables, or even toast, eggs are a delicious, protein-packed option on their own.

Oatmeal

: When you discover oatmeal's health benefits, you will remember granola and other crunchy cereals. Oatmeal is a brace-friendly breakfast option, whether plain or with fruit (e.g., banana, berries, or mango).

Fruits

: It's best to avoid sticky, sugary, and sticky fruit, such as cranberries, dates, and raisins, with braces. Soft fruit options, such as bananas, berries, nectarines, and peaches, are perfect for a healthy diet.

Yogurt and smoothies

: Adding bananas, berries, mangoes, kale, or spinach is a great way to make this healthy treat even tastier. They are also fantastic sources of vitamin D, calcium, and minerals.
Check Out Our Braces-Friendly Toast Recipes!
Let's explore some of the yummiest brace-friendly toast recipes to try each day!
Beans on toast

: With this British classic, you pour some beans in tomato sauce over a slice of toast. A simple, brace-friendly option you can eat without chewing much.

Scrambled eggs on toast

: With a slice of toast and a teaspoon of French or Dijon mustard, you can enjoy your eggs French-style (i.e., low heat, constant scrambling).

Smoked salmon and cream cheese on toast

: It's just like eating a soft bagel!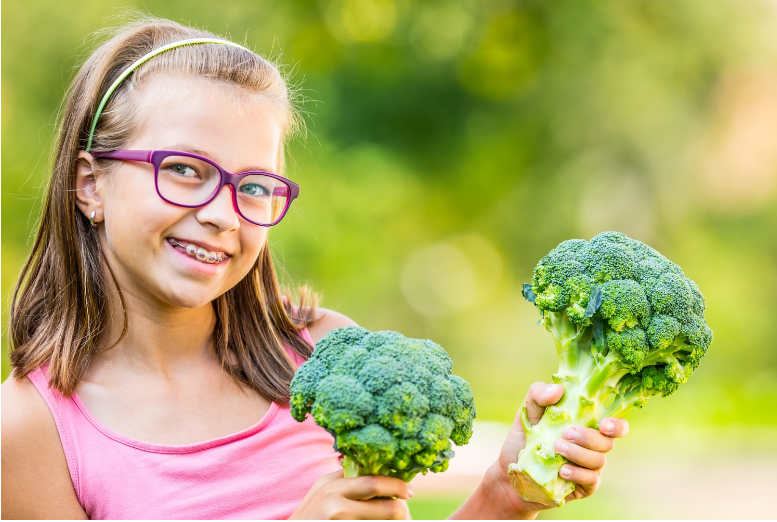 Loudoun Orthodontics Can Help You Learn More About Breakfast Foods!
Contact Loudoun Orthodontics if you think orthodontic treatment is the solution to your dental woes. Whether you want to learn more about the benefits of our orthodontic services or have questions about the process, use our live chat or call (703) 858-0303 or send us a message through our contact us page to connect with our friendly staff today to book a complimentary orthodontic consultation! Our office, located at 19465 Deerfield Ave, Suite 304, Leesburg, VA 20176, proudly serves not just Loudoun County but also the Greater Washington DC area. So, if you're residing in Ashburn, Lansdowne, or Sterling, and are looking for one of the best orthodontists in Virginia, don't hesitate to visit our office! We also invite you to keep up with our blog to get answers to many of the frequently asked questions about maintaining sparkling oral health, and follow us on Facebook and Instagram to become a part of our smiling community!