In today's world, sports are playing an enormous role. Whether it's because you're trying to lead a healthy lifestyle and stay fit or want your child to become the captain of the football team, the world of sports continually surrounds us. While some of them require only concentration and an insignificant degree of physical effort, others, such as football or soccer, can genuinely put our bodies to the test.
With a higher degree of contact comes a more significant chance for injury. As an adult or as a parent, it is your responsibility to minimize this chance by providing yourself and your children adequate protection.
One of the areas more exposed and, as such, more prone to accidents and injury is the mouth – one lousy hit or one unfortunate fall, and you could put your dental health in grave danger. The danger levels grow exponentially when you or your child is wearing braces since the metal wires can cause bleeding and infection in the case of an accident.
Here at Loudoun Orthodontics, we believe that the teeth straightening process doesn't have to stand between you and your favorite sports. As long as you equip yourself with the right protective devices, you can step into the football field or basketball court and enjoy your hobby. However, not all protective devices are created equal, which is why today we're going to discuss the differences between mouthguards and sports guards and decide which of the two is the right choice for you!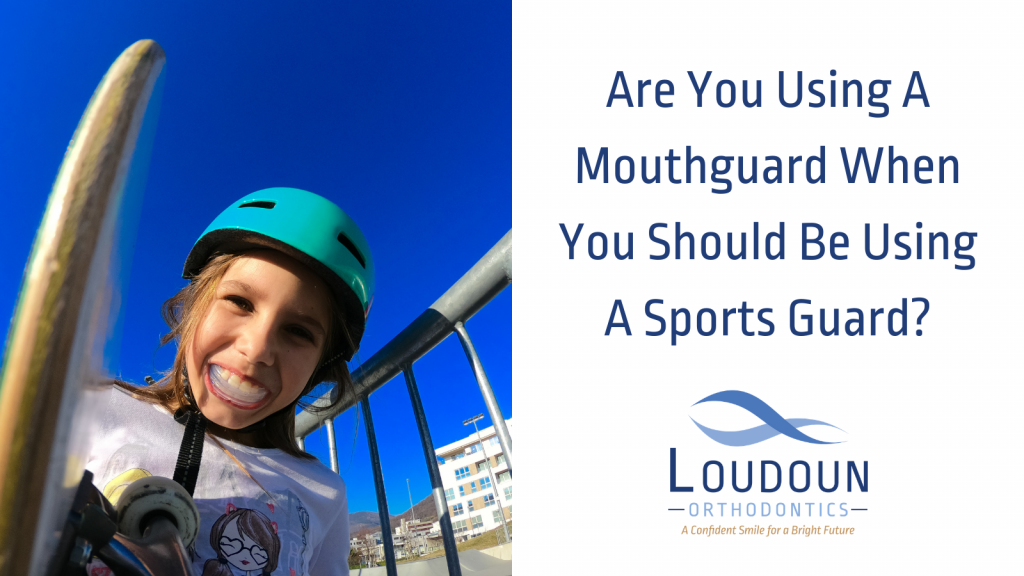 What Does a Mouthguard Protect?
Mouthguards, also known as mouth protectors, create a protective layer around your upper teeth, preventing tooth injury or tooth loss in case of a severe blow to the face. Furthermore, mouthguards work by minimizing the risk of other injury types, such as the lips, tongue, or jaw.
As a rule of thumb, mouthguards protect the upper layer of teeth since they are more likely to take the hit as they stand out more. The bottom teeth, sitting a bit further back, are generally protected from unexpected blows to the mouth.
However, what happens if you're using braces to straighten your bottom teeth? In that case, your orthodontist can prescribe a custom-made mouthguard to cover and protect your bottom teeth as well; after all, it's better to be safe than sorry.
How Is a Sports Guard Different from a Store-Bought Mouthguard?
We've already established the fact that mouthguards play a crucial role in keeping your teeth intact. However, how do we choose when we have multiple types of mouthguards to pick from? This is the perfect moment to introduce the difference between store-bought mouthguards and sports guards.
We will start with store-bought mouthguards – present in most sporting goods and drug stores, they come in stock sizes (e.g., small, medium, and large) and cover your top teeth. As a rule of thumb, store-bought mouthguards present themselves as an inexpensive, easy-to-find protective device.
However, both accessibility and low prices come with troubling downsides. Limited size options make store-bought mouthguards uncomfortable to wear, providing less of a tight fit. Furthermore, you get what you pay for, so do not expect these devices to provide comprehensive protection against severe blows.
On the other hand, sports guards are designed and made in a professional dental laboratory individually to suit your particular needs. Your orthodontist will make an impression of your teeth and create a custom-made guard with the most comfortable fit and superior protection. If needed, sports guards can be designed to protect the bottom teeth as well. It's true, superior protection comes at a greater price, but it's always wiser to invest in a more technologically-advanced device to keep your teeth safe.
Which Sports Should You be Wearing a Sports Guard During?
According to the American Dental Association (ADA), approx. a third of dental injuries have to do with sports, which shouldn't surprise us – projectiles, speed, and spirited players make a sure recipe for dental disaster. For that reason, if you or your children are playing or practicing one of the following sports, the ADA recommends wearing a custom mouthguard:
Football
Soccer
Boxing
Basketball
Field hockey
Ice hockey
Gymnastics
Skateboarding
In-line skating
Cycling
Volleyball
Softball
Wrestling
What to Do if You Damage Your Braces during Your Game
It has happened – a friendly contest has led to a dental injury. What to do next? Whether it's you the one who is suffering or you're merely witnessing such an event, following these protocol steps will prevent the injury from becoming more serious:
The first and foremost thing to do is to examine the injury carefully. Because bleeding can make the injury assessment difficult, make sure that you clean the wound first, stop the bleeding, and apply ice for pain relief. Once the wound has been cleared up, you will be able to assess the injury's seriousness thoroughly.
The next thing to do is to contact your orthodontist. Quite often, such injuries can displace teeth, so you will need the help of a professional to undo such damage. Furthermore, if the damage is more severe and your braces receive the full brunt of the hit, your orthodontist will have to remove the brackets, clean the wound so as not to get infected, and replace the damaged brackets or wires.
To sum up, unseen dangers might lurk in your mouth after an injury, so make sure that you bring all of your concerns to your orthodontist.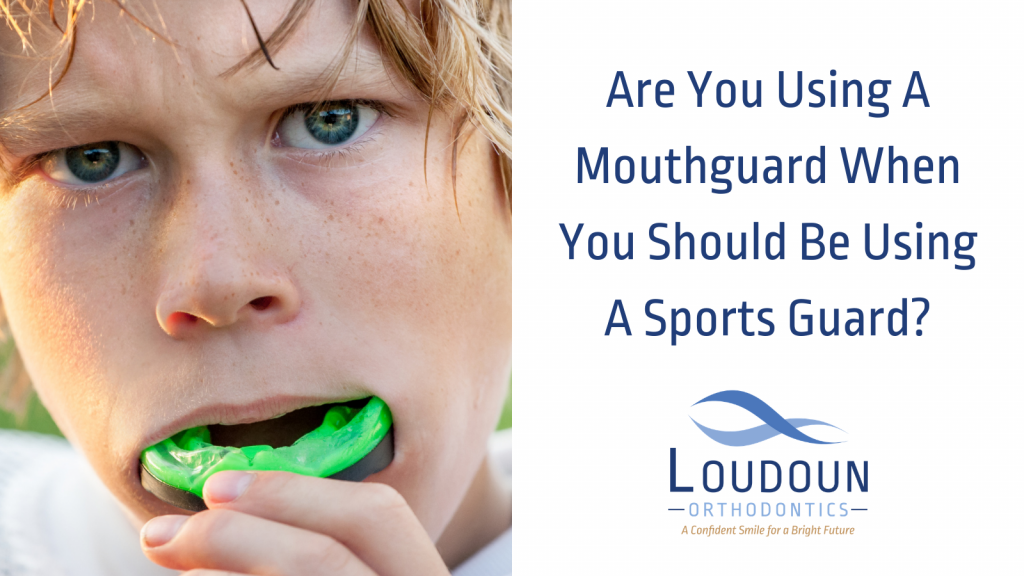 Enjoying your favorite sport has never been easier! With professional sports guards, you can go back to the football field or basketball court and play your beloved game without troubling yourself with the thought of dental health. Would you like to learn more about sports guards? Make sure that you schedule a complimentary consultation with us, or check out our blog!
BIBLIOGRAPHY:

https://www.colgate.com/en-us/oral-health/dental-emergencies-and-sports-safety/what-are-sports-mouth-guards
https://www.webmd.com/oral-health/guide/mouth-guards
https://www.nationwidechildrens.org/specialties/sports-medicine/sports-medicine-articles/mouth-guards-in-sports-a-necessary-piece-of-equipment
https://www.orthodonticslimited.com/braces/protect-braces-sports/
https://www.renewdentalgr.com/how-mouth-guards-prevent-sports-dental-injuries.php