The world of dental health care has been experiencing constant growth for the past three decades. Did you know that since 1993, the number of dentists in the U.S. alone has grown from approx. 150,000 to 200,000 in 2019? The dentistry field draws more and more young students every year, ready to create perfect smiles for us to enjoy.
However, in a world where you can find dental professionals at every corner, how do you know which one to pick for your dental health issues? And, more importantly, where do you start? With the rise of online marketing and social media, dental health professionals are a constant online presence today, providing would-be patients with more than numerous alternatives.
Right from the start, the first lesson to be learned is that, akin to every other field, no two dental professionals are created equal. While dentists receive the proper training to cover a broad range of oral health issues, orthodontists are a more appropriate fit for creating a perfect smile through tooth straightening or the correction of improper bite patterns.
No Two Orthodontists are Born Equal
But the journey of an orthodontist doesn't stop there. Approximately one in three orthodontists decides to take their education, training, and expertise to the next level, aiming to provide the highest quality of orthodontic care possible. 
With their superior understanding of tooth growth development and facial form, these practitioners manage to turn tooth straightening into an art form, an art form to be enjoyed by the patients for years on end. Welcome to the world of Board-Certified Orthodontists! Curious to learn more about these 'super-orthodontists'? Stay tuned, and learn more about why choosing a Board-Certified Orthodontist is and always will be the superior choice!
Why Board-Certified Orthodontists are the Superior Choice
#1: They Receive a Thorough Education
The first aspect where a Board-Certified Orthodontist differs from a regular orthodontist is education. To be eligible for the certification, orthodontists must complete a graduate program in dentistry and receive a DDS (Doctor of Dental Surgery) or DMD (Doctor of Dental Medicine). 
Furthermore, Board-Certified Orthodontists must complete an accredited orthodontic residency and receive specialized training in orthodontics and dentofacial orthopedics (i.e., the guidance of facial growth and facial development). The whole training process, taking the orthodontist from a learner to an expert, takes more than ten years, a clear sign of the practitioner's dedication.
#2: They Go through Rigorous Examinations
However, studying the anatomy and aesthetics of the mouth for a decade is just the tip of the iceberg. To receive this most-prized of certifications, orthodontists have to pass a rigorous 3-part examination consisting of written and oral tests, as well as an oral defense of cases treated at the highest standards before a board of examiners. This process aims to bring forth the best specialists in the country and separate them from regular orthodontists.
Once the examination is over, the American Board of Orthodontics (ABO) will bestow the board certification upon the orthodontist, confirming their years of arduous training and expertise.
#3: They Stay Up-to-Date with Technological Innovations
With the highest certification come higher expectations, and Board-Certified Orthodontists are no strangers to their responsibilities. To keep the prestige of their certification intact, Board-Certified Orthodontists constantly renew their knowledge surrounding the newest technological innovations to provide state-of-the-art solutions to their patients.
Choosing a Board-Certified Orthodontist is a choice for the newest, the superior, and the cutting edge in all that pertains to the orthodontics field.
#4: They Have to Renew Their Certification
The process of perfecting oneself as an orthodontist extends throughout a lifetime, which is why the American Board of Orthodontics makes constant learning a fundamental aspect of their certification. As such, since technological and technique innovations are ordinary for the orthodontics field, the ABO certification, unlike academic tenure, lasts for only ten years, after which every Board-Certified Orthodontist is required to renew their certification. Such an approach brings even more credibility and prestige to the certification, as practitioners must retake the examination and prove their worth without exceptions.
#5: They Ensure a Higher Standard for Their Patients
The prestige brought by the ABO certification constantly drives Board-Certified Orthodontists towards delivering the highest quality standards every single day. For that reason, Board-Certified Orthodontists aim to create perfect smiles without ever tarnishing their reputation with, let's say, fake advertisements. Once you enter a Board-Certified Orthodontist's office, safety, training, and expertise will guide your way towards achieving your dental aesthetic goals! 
Here at Loudoun Orthodontics, Dr. Richard J. Lee, DMD, MS, MPH, CAGS, abides by the ABO certification requirements. As a proud member of the American Association of Orthodontists, Dr. Lee has turned his passion for creating perfect smiles into an art, helping innumerable patients regain their confidence and self-esteem while improving their quality of life. Such achievements are shown by countless reviews left by happy patients, such as the following:
"Dr. Lee is an excellent orthodontist. I've known him since high school and he has made three of my daughters smiles look awesome! I would highly recommend him." – Peter R.
"Dr. Richard Lee and his staff are amazing. He is a very honest and caring Dr. Office never makes you wait to be seen and he is one of the most honest and caring Dr.'s I have seen in a long time. If you are anyone you know is in need of Orthodontic treatment I would look no further, he is the one to go to. His honesty and caring for his patients are amazing." – Crystal H.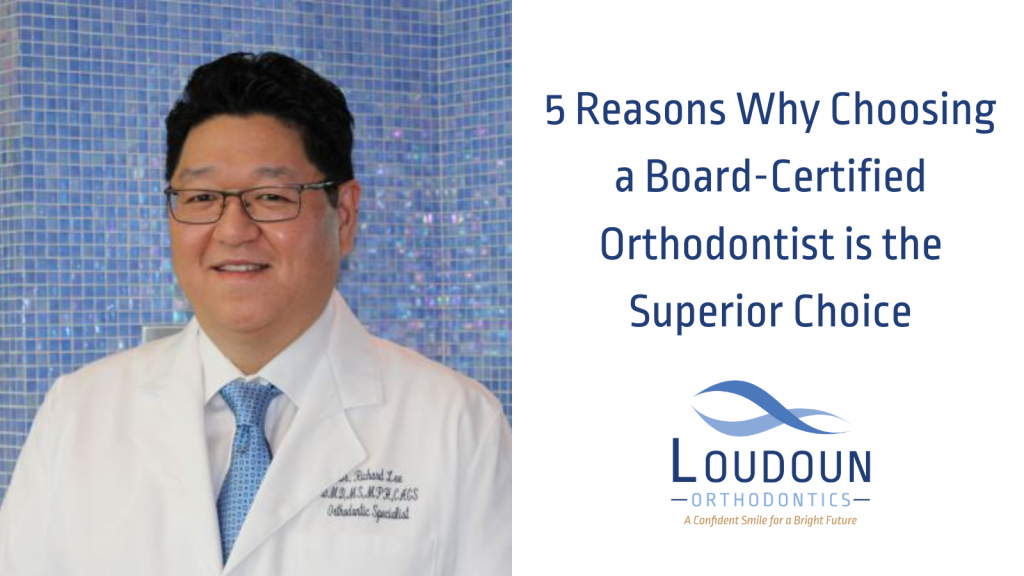 Contact Loudoun Orthodontics if you think orthodontic treatment is the solution to your dental woes. Whether you want to learn more about the benefits of orthodontic treatment or have questions about the process, use our live chat or call (703) 858-0303 or send us a message through our contact us page to connect with our friendly staff today to book a complimentary orthodontic consultation! Our office, located at 19465 Deerfield Ave, Suite 304, Leesburg, VA 20176, proudly serves not just Loudoun County but also the Greater Washington DC area. So, if you're residing in Ashburn, Lansdowne, or Sterling, and are looking for one of the best orthodontists in Virginia, don't hesitate to visit our office! We also invite you to keep up with our blog to get answers to many of the frequently asked questions about maintaining sparkling oral health, and follow us on Facebook and Instagram to become a part of our smiling community!
BIBLIOGRAPHY:
https://www.davidleesmile.com/blog/5-reasons-why-a-board-certified-orthodontist-is-better
https://www.helmortho.com/about-us/why-choose-a-board-certified-orthodontist/
https://www.aperfectsmileorthodontics.com/board-certified-orthodontist/
https://bracesbybentley.com/why-you-should-choose-a-board-certified-orthodontist/
https://www.joossefamilyorthodontics.com/what-is-a-board-certified-orthodontist/
https://caminorealortho.com/why-choose-a-board-certified-orthodontist/
https://hdorthodontics.com/blog/choose-board-certified-orthodontist/#:~:text=Orthodontics%20is%20an%20involved%20field,you%20are%20in%20capable%20hands.